Sharing Monitor, Keyboard & Mouse with Multiple Computers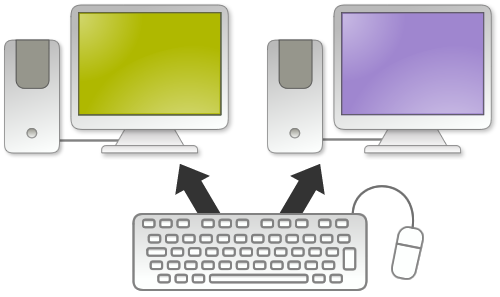 Many people out there will be having multiple computers – one for personal use and another for office use but do not like to buy two sets of accessories (monitor, keyboard, and mouse) and also hates switching them between the two computers.
If you are one of those few people, you might want to read further to find out how to share monitors, keyboard, and mouse with multiple computers without switching them between the computers.
KVM Switch – The Hardware Way
KVM Switch is a small hardware device where you can connect your keyboard, mouse, and monitor instead of connecting them to a specific computer.
Once that's done, you need to connect the KVM switch to all your computers using a USB A – B (aka Printer Cables). That's all you need to do for the setup part. You can then switch your accessories from one computer to another by simply pressing one physical button on the KVM switch.
Of course, every KVM switch will have its own setup process but the general idea will be the same! If you are looking to buy one, you can purchase it here.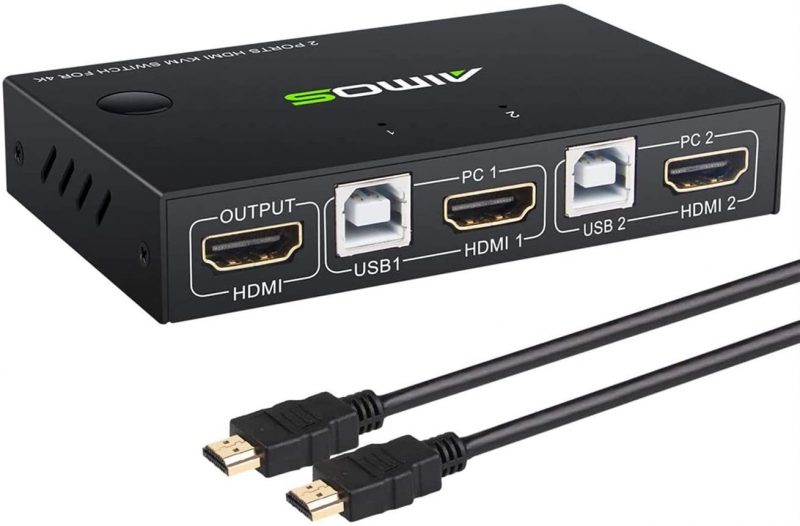 Please note that this product comes with only 2 printer cables and 1 HDMI cable. To connect and share display monitors, you need to buy a couple of HDMI cables additionally.
Basically, you need one pair of HDMI cable, and print cable for connecting one computer to the KVM switch, and one HDMI cable to connect the KVM switch to a display.
ShareMouse – The Software Way
ShareMouse is free software(for personal use) that does the work of KVM Switch the only difference is you cannot share a monitor and it requires all the computers to be in the same local network. It makes up for it by providing other nice features like Clipboard sharing, File transfer by simple drag-and-drop, allowing to switch between two computers by simply moving the cursor from one screen to another and also it's free!
If you are not looking to share a monitor ShareMouse is the right choice for you. You can Download ShareMouse from its official website.
Many alternatives to ShareMouse are available out there, but I haven't tried them so please go ahead and mention the ones that you've used and liked.